Boyds For Sale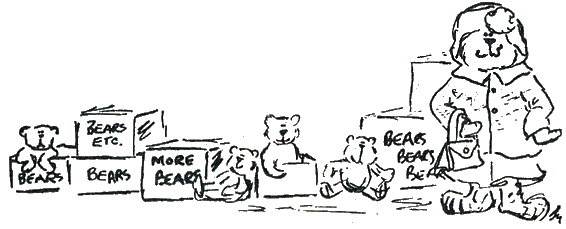 ---
To list your sale, specify selling in your email... Email Us at : Click Here
---
The following Descriptions have been written by the sellers. Please make sure you read the disclaimer before proceeding. In most cases buyer will assume responsibility for shipping.
---
Take a Look at what our Sponsor is selling!
If you see anything you want please email us. Or you can email our sponsor Gift Faire. You can call them at 407-629-1733. Many of these pieces are special editions, retired, and/or very low edition numbers.
---
BEARSTONES
#2266 - Angelica... The Guardian $18.50 RETIRED
#2017 - Bailey & Wixie... To Have And To Hold $16.00 RETIRED (1)
#227707 - The Collector (RS) $21.00
# 228309 - Dr. Harrison Griz... M.D., Ph.D., B.U.D. $15.00
#227710 - Feldman D. Finklebearg And Dooley... "Patience And The Patient" $20.00
#227801 - The Flying Lesson... This End Up (LE-1997) (Feb. Ed.) $62.00 RETIRED
#228303 - Judge Griz... Hissonah (RS) $18.50 RETIRED
#2259 - Ms. Bruin & Bailey... The Lesson $18.50
#228305 - Puck... Slapshot $18.50
#227803 - T.H.B. & Co... Work Is Love Made Visible (LE-1998) (the no edition) $63.00 RETIRED
** All Bearmoge currently in stock between $23.00 most 1st edition**
---
FOLKSTONES
#2868 - Audubon P. Pussywillow... The Birdwatcher $19.00
#28249 - Domestica T. Whirlwind... NQGA of Super Moms (1st Ed.) $20.00
#28402 - Harriet & Punch With Hermaine... The Challenge (1st Ed.) $19.00
#28246 - Ms. Fries... Guardian Angel Of Waitresses (1st Ed.) $19.00
#28247 - Myron R. Fishmeister... Angel Of Fish Stories (2nd Ed.) $21.00
#3001 - Nick On Ice (GRS) $32.00 RETIRED
#3002 - Santa's Challenge (GRS) $32.00 RETIRED
---
DOLLSTONES
#3539 - Alyssa With Caroline... A Stitch In Time (2nd Ed.) $18.00
#3534 - Austin & Allen... The Fire Chief (2nd or 4th Ed.) $20.00
#3524 - Benjamin With Matthew... The Speed Trap $29.00
#3532 - Jessica & Timmy... Animal Hospital (LE-1998) This piece was retired because of legal problems due to the red cross. You can be sure you won't see this piece again in this form. $40.00 RETIRED
#3515-01 - Karen With Wilson & Eloise... Mother's Present (4th Ed.) $20.00 RETIRED
#3542 - Kelly And Company... The Bear Collector (LE-1999) (3nd Ed.) $36.00 WILL RETIRE 12/31/99
#3516 - Kristie With Nicole... Skater's Waltz $26.00
#3536 - Lucinda and Dawn... By The Sea (2nd Ed.) $18.00
#3517 - Mallory With Patsy & J.B. Bean... Trick Or Treat $27.00
#3537 - Melissa With Katie... The Ballet (2nd Ed.) $18.00
#3541 - Meridith With Jacqueline... Daisy Chain (2nd Ed.) $18.00
#3540 - Stephanie With Jim... School Days (2nd Ed.) $26.00

---
* The following pieces are being sold by other collectors, not our sponsor.*
BEARSTONES
#228302 - Stonewall... The Rebel 2E $45.00 hharper@access.k12.wv.us
#27600 - BAILEY ON TIME 1E - This collectors piece is not only VERY HARD To FIND, but it happens to be a 1E as well as RARE!! Here we find Bailey asleep on top of a working 11" wooden clock. $85.00 ragsctebgb@freewwweb.com
#2014 - Bailey's Birthday 35E - Here we find an old favorite among all Bearstone Collectors...Bailey blowing out the candle on her cake. $29.00 ragsctebgb@freewwweb.com Click here for picture
227801 - The Flying Lesson..This End Up MARCH LE - Issued in 1997 this LE shows baby angel bear learning how to fly. It's delightful! Plays "When You Wish Upon A Star". $87 ragsctebgb@freewwweb.com :: Click here for picture
#2016 - Grenville & Beatrice..Best Friends 47E -RETIRED in 2/94!! $45.00 ragsctebgb@freewwweb.com
2286 - ZOE..Angel of Life GCC - This lovely angel is a FIRST EDITION! $57.00 ragsctebgb@freewwweb.com
Click here for picture
227715 - Dean Newbearger..Bears and Bulls GCC - New 1998. $36.00 ragsctebgb@freewwweb.com
2012 - Christian by the Sea 29E - Issued in 1993 and recently retired! $27.00 ragsctebgb@freewwweb.com
Click here for picture
27353 - Rocky..All Star - Brand New for 1999. 1E/3005 $40.00 ragsctebgb@freewwweb.comClick here for picture
2272 - Bailey Hearts Desire RARE 1E!! -Here sits our darling Bailey eating her chocolates out of a heart shaped box! $100.00 ragsctebgb@freewwweb.com Click here for picture
FOLKSTONES
2880 - Polaris and the North Star 1E $60.00 hharper@access.k12.wv.us
28206-06 - Astrid Isinglass... Snow Angel (LE-1997) $80.00 hharper@access.k12.wv.us
36105 - Ms. Lilypond 1E -NEW for 1999. $29.00 ragsctebgb@freewwweb.com
36501-01 - Pearl Too..the Knitter 1E - Issued in 1997 we find Pearl, the snowlady, knitting a scarf labeled.."Warm" $32.00
ragsctebgb@freewwweb.com
36102 - Flossie.Faeriefloss 1E - The cutest tooth faerie I've ever seen, complete with toothbrush under one arm and a quarter under the other. $52.00 ragsctebgb@freewwweb.com
2710 - Jean Claude and Jacques..the Skiers 1E Waterglobe - Like all waterglobes, this one too, is musical. It plays "Let It Snow". $80.00 ragsctebgb@freewwweb.com
2829 - Abigail..Peacable Kingdom 14E - Isuued in 1995 and retired. $40.00 ragsctebgb@freewwweb.com
28246 - Ms Fries..The Gurdian Angel of Waitresses GCC - You have to see the smiley face between her wings! $41.00
ragsctebgb@freewwweb.com
2880 - Polaris & the North Star..On Ice 1E - What a beautiful piece! $75.00 ragsctebgb@freewwweb.com
3200 - Augustus 'Gus' Grizberg 2E - The first of the Shoebox Bears and, of course, retired!! This is the 'papa' bear. $40.00
ragsctebgb@freewwweb.com
3201 - Gertrude 'Gerti' Grizberg 2E - The first of the Shoebox Bears!! This is the 'momma', and like her partner, she too is retired! $46.00 ragsctebgb@freewwweb.com
DOLLSTONES
3501 - Patricia with Molly 9E - Issued 1995. $22.00 ragsctebgb@freewwweb.com
3532 - Jessica & Timothy with Clara, Northrop and Edmund MARCH LE - This piece is also called Animal Hospital. $60.00 ragsctebgb@freewwweb.com
3518 - The Amazing Bailey..Magic Show at 4 RARE JANUARY LE - $100.00 ragsctebgb@freewwweb.com
3599 - Anne..The Materpiece 1E - Issued in 1996, this detailed piece is truly lovely. $65.00 ragsctebgb@freewwweb.com
3506 - Ashley with Chrissie..Dress Up 1E - $55.00 ragsctebgb@freewwweb.com
3503 - Betsy with Edmund..the Patriots 1E - $75.00 ragsctebgb@freewwweb.com
3514 - Candice with Matthew..Gathering Apples 1E - $53.00 ragsctebgb@freewwweb.com
3512 - Courtney with Phoebe..Over the RiverandThru the Woods 1E RETIRED This Courtney wears a green coat. - $70.00 ragsctebgb@freewwweb.com
3510 - Jean with Elliot & Debbie..The Bakers 1E - $53.00 ragsctebgb@freewwweb.com
3500 - Jennifer with Priscilla..The Doll in the Attic 1E -RETIRED - $85.00 ragsctebgb@freewwweb.com
PLUSH
Clarisse (Hare) MWMT She is a large white chenille bunny in a blue floral romper. Retired and HTF. $50.00
andieb@gte.net
---